We are extremely proud to share the exciting news that PMD Financial Advisers has been awarded 2021 "Practice of the Year" by our dealer group Consultum Financial Advisers. This award acknowledges the practice that has demonstrated leadership and innovation in helping clients achieve their financial and lifestyle objectives as well as the development and implementation of best business practices.
The "Practice of the Year" award is even more significant as we won this award in both 2017 and 2019, and we were a finalist in 2018! This level of recognition of continued excellence is an incredible achievement, and one of which we are very proud.
In addition to PMD receiving this practice award, James Esselmont, Director, PMD Financial Advisers was one of the finalists nominated for "Planner of the Year" and Louise Jones was a finalist nominated for "Support Staff Member of the Year".
This track record of awards means that PMD continues to achieve a very high standard of business practice to provide exceptional levels of service for our clients. We hope that as a PMD client, you feel a sense of shared pride in these awards and ongoing confidence and peace of mind when dealing with the team at PMD who seek "to do our best for the clients at all times".
We look forward to continuing to work with you to achieve your financial and lifestyle goals.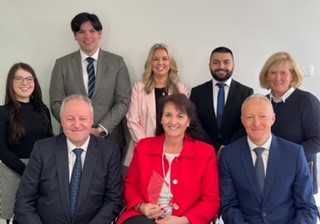 MD team (l-r) Dana Bonnici, Josh Parrott, Louise Jones, Gurcan Dogan, Susan Shaw
Front (l-r) Tim Donohue, Roxy Kruger, James Esselmont